Overview
Downtown Scottsdale provides a mix of specialty retail, art galleries, dining, legendary nightlife, public art and cultural attractions. Downtown is more than a tourism destination, it's also the city's second largest employment center with innovative and thriving technology and healthcare companies such as Yelp, Square, ZocDoc, Digital Air Strike, Zivelo, Clearlink, Zillow Offers, Anomalie, and Indeed. Within downtown there is a zoning overlay which allows increased density to encourage urban design elements which accommodate additional housing units in mixed-use developments to stimulate a sustainable live/work lifestyle.
Downtown Fast Facts
In total, Downtown Scottsdale's annual sales including restaurant and miscellaneous retail annual sales totaled $266 million in 2016
88% of overnight visitors to Scottsdale report visiting downtown
In under three years (2010-2013), over $400 million of private investment has been underway involving residential, retail, hotel and office development
875 new multi-family residential units have been recently completed or are in final planning
Median sale prices of residential real estate in the downtown zip code of 85251 has recently appreciated at a rate approximately double of that of the city as a whole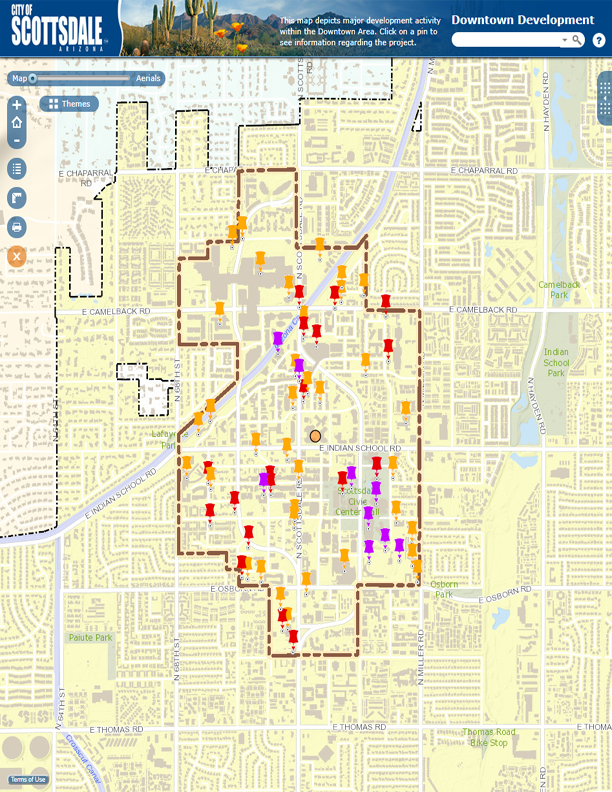 Search Planning Cases
Map theme to search and identify activity for:
Public Projects
Development Review Cases
Zoning Cases
General Plan
Average Household Income: $77,866
Median Age: 40.9
Population: 106,008
Businesses: 7,143 (116,400 employees)
SPI >150: computers, video games, apparel
Source: ESRI BAO June 2017
Downtown Scottsdale Spotlight
The Downtown Scottsdale Spotlight video series features Downtown Scottsdale business and was created to bring more value and awareness of local small businesses in the community in 90 second video promotions. Watch the videos in this new video series on our YouTube channel.