The City of Scottsdale is one of Arizona's ten largest cities with a population of more than 230,000. With a rich history in tourism, Scottsdale is visited by more than 9 million people annually, generating an economic impact of 3.7 billion. Home to Arizona's finest shopping and dining, Scottsdale offers ranches, hiking trails, award winning resorts and acclaimed art galleries for its residents that enjoy a quality of life like no other.
Nearly 20 percent of Arizona corporate headquarters are in Scottsdale, and over 90% of Scottsdale's software companies are growing with over 10 percent software employment growth forecast in Arizona over the next five years, the highest in the Mountain West region. Scottsdale is ranked the sixth safest city in America, holds a Gold Ranking as one of Top Ten Best Burbs for Biking, and is an up and coming foodie location.
Scottsdale is perfectly situated, with mountains, desert and beaches all in less than a day's drive or short flight to other major markets.
Where else can one enjoy over 300 days of sunshine a year, a multitude of outdoor activities, world-class shopping, dining and entertainment options? If you need a change of scenery you are a short 1.5-hour drive from hiking, skiing or sledding in the mountains at Flagstaff or Pinetop-Lakeside. Don't like mountains? You're also a short one-hour flight from the beaches of San Diego or entertainment venues in Las Vegas.
Scottsdale offers exceptional access from several airport locations, most notably Phoenix Sky Harbor International Airport or Scottsdale Airport.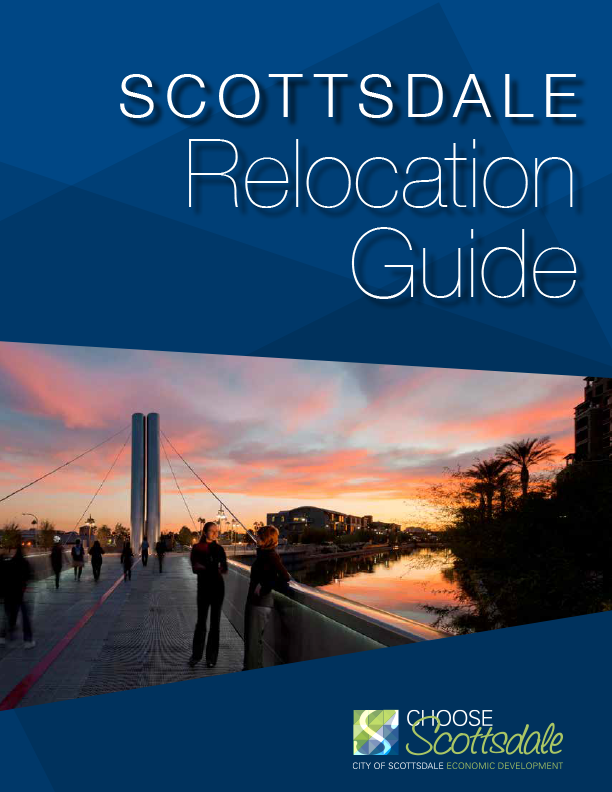 300+
Days of Sunshine

600
Restaurants

9300
Beds

125
Golf Courses

100
Art Galleries

30,000
Acre Preserve

200+
Miles of Trails
Airports
Phoenix Sky Harbor International Airport
Sky Harbor is one of the 10 busiest airports in the United States. More than 120,000 passengers, 1,200 aircraft, and 800 tons of cargo pass through Sky Harbor each day. The airport is served by 15 major airlines with daily non-stop service to 80 domestic and 20 nonstop international destinations. Additionally, Phoenix Sky Harbor Airport is home to two major national airline hubs: American Airlines and Southwest Airlines.
Scottsdale Airport
With 164,058 operations in 2016, Scottsdale Airport is one of the busiest single runway facilities in the nation. U.S. Customs "USVISIT" is available seven days per week and allows visitors from all over the world to visit Scottsdale.
You Should Know
There are number of things that you should know about the advantages of locating your business in Scottsdale. Below are some of our favorite Scottsdale offerings:
Location provides low catastrophic risk, and ranks among the top 10 US cities for lowest disaster risk
Exceptional cost of living in comparison to other major cities
Scottsdale has the highest financial rating from all three major national bond rating agencies
100+ years of planning & investments in region's water supply system and a 336-mile system brings 1.5 million acre-feet of water per year to the area via the Central Arizona Project
Significant regional educational offerings:
Arizona State University – Graduates 2,600 business students per year
WP Carey School of Business (ASU) – Ranked in top 25 in Global Business Schools
Thunderbird School of Global Management - Ranked # 1 "International" Full-Time MBA
University of Phoenix – Specializes in business curriculum; Nation's largest private university
Keller Graduate School of Management
University of Arizona Medical School – State-of-the-art medical school with Phoenix campus
Mayo Clinic/ASU Medical School – Highly ranked medical school at Mayo Clinic Hospital
Scottsdale Community College – Nationally recognized academics, seamless university transfer
Scottsdale Unified School District is Arizona's most excelling public K-12 school district
Basis Scottsdale High School, ranked #1 in the Country